Religious Education (RE) is taught for one hour each week and follows one religious theme or question each half term.
Religious Education is provided for all pupils in this school and is in accordance with Herefordshire's agreed syllabus. As we are a Church of England school, the curriculum is enhanced by collective worship and links with the local Christian community, deepening the religious experience of all our children.
At Much Marcle Church of England Primary School we develop the children's knowledge and understanding of the major world faiths, and we address the fundamental questions in life, for example, the meaning of life and the existence of a divine spirit. We enable children to develop a sound knowledge of Christianity and other world religions. Children reflect on what it means to have a faith and to develop their own spiritual knowledge and understanding. We help the children learn from religions as well as about religions.
In order to make religious education an engaging and active subject we employ a variety of teaching methods including art, music, discussion, the development of thinking skills, drama, the use of artefacts, pictures, stories, and the use of periods of stillness and reflection.
Where possible we want our pupils to have opportunities to encounter local faith communities through visits to local places of worship or visits from members of local faith communities to the school.
The school welcomes 'Open The Book', members from the local church who perform weekly Bible stories during our collective worship. The group is led by the local Reverend and the stories are thoroughly enjoyed by all.
For more information, please see our RE Curriculum Overview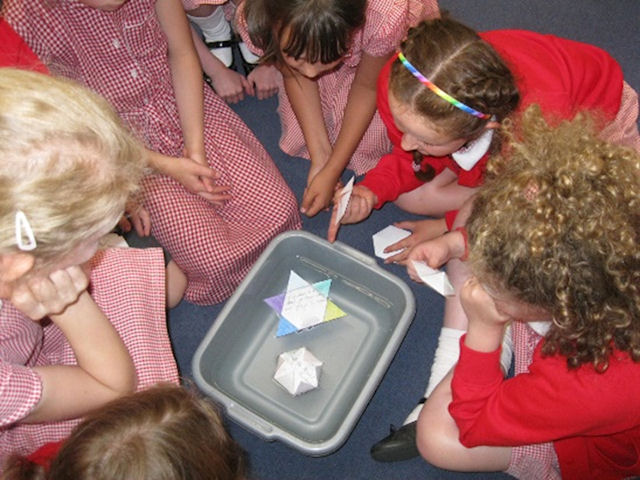 Children making prayer lilies.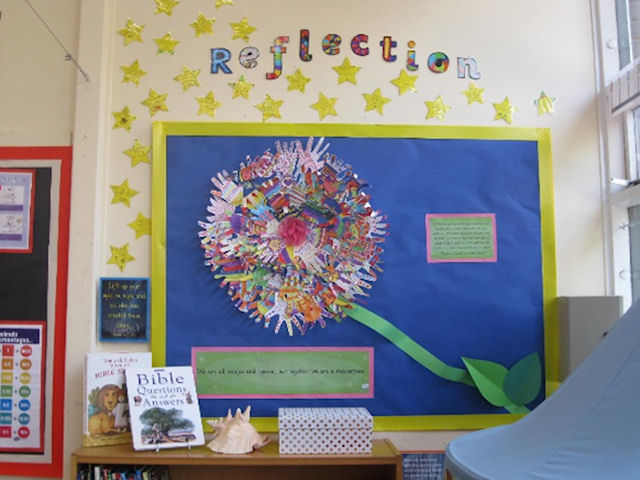 Each class has a special area where they can take time to pause and reflect and write their own prayers if they wish.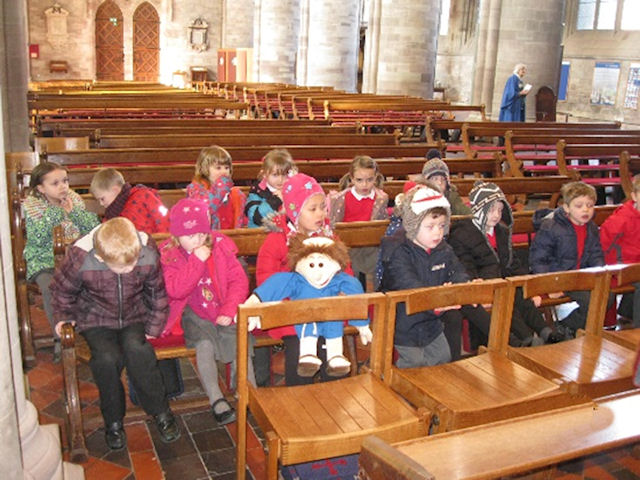 Class 1 visit Hereford Cathedral.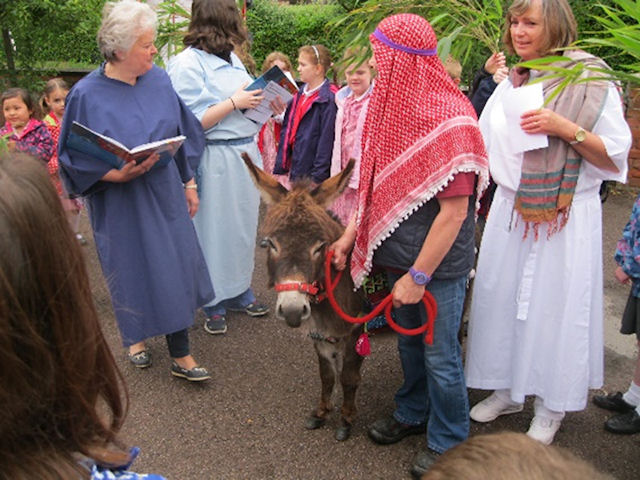 Open the Book reenact Palm Sunday with the help of a special visitor!
Spirituality
'Provision for pupils' spiritual, moral, social and cultural development is outstanding. Pupils develop into confident, articulate and reflective individuals who are very well prepared for the next stage of their education.' Ofsted 2014
Here at Much Marcle we believe that our spirituality is developed by the way we live our lives. It is the way we understand ourselves through our values. Spirituality is concerned with who we are, not what we have.
'The fruit of the spirit is love, joy, peace, forbearance, kindness, goodness, faithfulness, gentleness, self-control.' Galatians 5:22-23
At Much Marcle we believe that BIG QUESTIONS open children's minds to big ideas, spirituality and faith. They give the children the opportunity to explore their emotions and beliefs and consider those of others through deep thinking and discussion.
We provide opportunities for children to develop aspects of spirituality:
Through creative, engaging activities, such as forest school, art and drama, we at Much Marcle develop a sense of awe and wonder enabling the children to enjoy the miracles of everyday life.
The children have the opportunity to connect with and learn through stories which they retell and re-enact.
They experience the uplifting effect of singing with others and appreciate quiet times for reflection and prayer as part of our daily routine.
The Christian values of Much Marcle underpin the children's spiritual growth, ensuring the development of sensitivity as well as resilience.